Martina Liana Separates
Martina Liana separates are a brand new collection launched by Martina Liana which we are delighted to announce is available in Bridal Haven now.
This new collection compromises of 18 gorgeous pieces including corsets, bodysuits, tops, skirts and jackets which can be mixed and matched to create your dream bridal outfit. On her new collection, Martina Liana announced, "I'm thrilled to introduce two new and unique offerings. Continuing the high level of design details you expect from Martina Liana, you can now give your brides the ultimate opportunity to custom their own dream dress with my new Separates Collection." and explained you can "Pick your dream pieces, then those separates become bound 'together forever' as your perfect wedding dress."
This trend allows brides to create a truly unique, custom couture look that suits her individual vision for the big day. It allows the bride to not only choose her wedding dress but also be a part of the design process, an opportunity not often experienced by most brides. Martina Liana gives the choice of whether they want to keep the pieces separate, allowing for each section to be worn again, or create one full gown by having the sections joined together. She hopes her collection will allow every bride to find a piece that accentuates her style, whether that be sexy, boho, elegant, destination or traditional.
The Martina Liana Separates collection is so versatile that brides can even change their look for the night time by changing their skirt or the top for a completely different style
Here is Martine Harris the designer of this fabulously unique range of bridal wear to explain the concept behind Martina Liana Separates
I am thrilled to introduce my new Martina Liana Separates Collection! With 18 extraordinary pieces, it has never been easier for brides to create a truly unique, custom couture look. I've hand-picked my favorite designs, turned them into separate pieces, and the rest is up to you! Simply choose a bodice, select a skirt, put them together and create your forever bridal look. No matter your style – boho-chic, romantic, or full-on glamorous – your dream wedding-day style is possible with Martina Liana Separates – Together Forever Collection.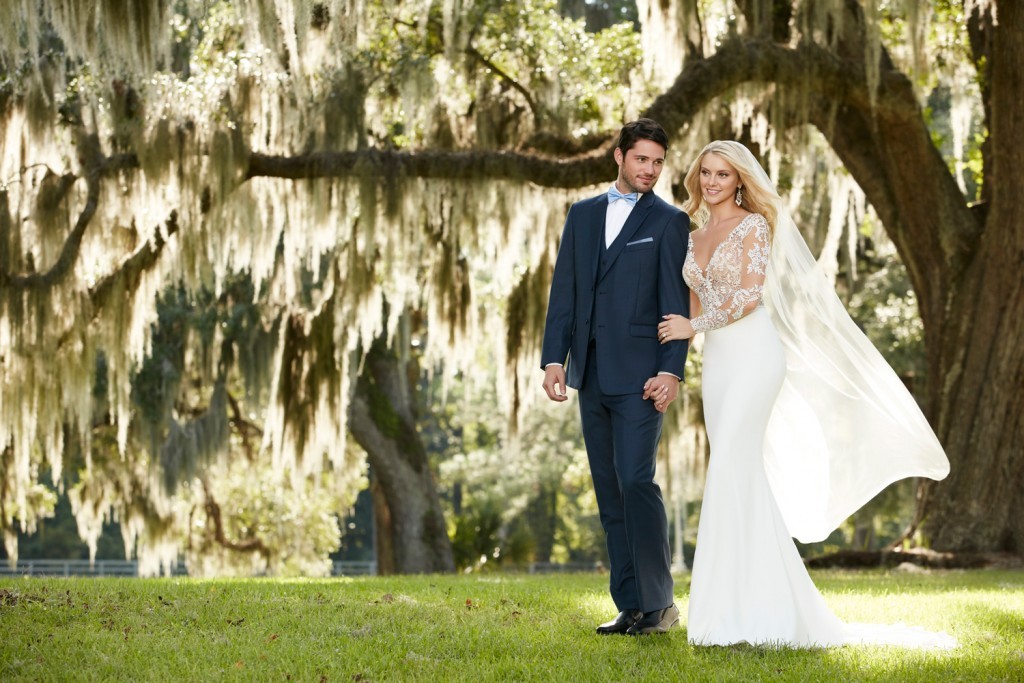 The short and sweet Sachi skirt is perfect for my brides looking to dance the night away or simply show off a killer pair of heels (how amazing is this blue pair?!). For my glamourous girls, I love to pair Sachi with the Ciara corset. Its intricate moonstone beading creates the most fabulous pattern and the sweetheart neckline is both romantic and sexy.
For my brides looking to show-off a downtown-chic wedding day style, pairing Sachi with my Tait top and James jacket is one of my favorite combinations! The structure and fabric of James gives the look an overall sleek and polished feel, while the graphic lace and slightly-cropped length of Tait add a touch of feminine playfulness.
Layers upon layers of romantic blush texture give my Stevie skirt an updated classic ballgown style. To complete your modern-day fairytale look, I recommend pairing with my Belle bodysuit. From its gorgeous lace detailing, to its dramatic deep sweetheart neckline, to intricate hand-beading and breathtaking illusion-tulle sleeves, I can't get enough of this beyond-beautiful bodysuit!
Equally stunning, my Cayla corset is another favorite to pair with Stevie in the blush-hued stone color. Cayla's ivory beading looks picture-perfect over its stone-colored lace and deep sweetheart neckline. Pairing a corset with a voluminous skirt is a sophisticated and glamorous look I absolutely love!
For my Martina Liana brides looking to show off their shape, my Sanja skirt is the perfect fit – and it's a fit that is so very comfortable as well! Constructed with the finest hand-loomed Italian Bellagio Crepe, Sanja hugs the body, enhancing every curve with each step you take. For an overall sleek and sexy look, pairing Sanja with my Cora corset is a must. Its graphic lace pairs perfectly with the structured, sweetheart neckline, giving it the perfect balance of sweet and sexy. For a subtle touch of sparkle, a moonstone belt looks amazing with this duo.
A match made in boho-glam heaven, Sanja and my Tyler top is one of my favorite combinations! The hand-beaded chiffon Tyler top gives off a modern, carefree feeling, which perfectly balances out the sleek and sexy feel of Sanja. Toss on the James jacket to add a sophisticated feel to the look.